Are you one of those who isn't happy with Instagram's default editor and trying to find alternatives to edit and post-process pictures? If yes, then don't worry I feel you and have got your back. Here is a list of few amazing apps to edit pictures for Instagram. You can use all of them to flourish, garnish and sparkle your raw pictures to get that final look! 😉
Top Five apps to edit pictures for Instagram
1. LIGHTROOM
When it comes to mobile apps then Adobe's Lightroom mobile version is the one true god. If you are into professional retouching and toning then I am pretty sure that you already have it on your mobile if not then install it right away!  The app got all basic(but powerful) tools that you need to retouch your photos.
You can fix light, colors, temperature, haze and you can also do it to a selective area by using the new selection tool. Apart from toning Lightroom also lets you crop, Organize and store your pictures on 1 TB cloud storage.
2. SNAPSEED
Snapseed a product of Google and also called a better version of Lightroom by many users, It has all the features of adobe lightroom except the cloud storage. With easy to use sliders, filters, and quick adjustment tools, the intuitive Snapseed interface makes it simple to create photos that look just the way you want. Like all other Google products, Snapseed's UI is simple and easy to understand. Snapseed is also the most downloaded apps to edit pictures in the list of free editing apps.
3.VSCO
Visual Supply Co, popularly known as VSCO is probably the most used application to edit photos for Instagram. It's moody filters and look oriented tools make the workflow very smooth. Just apply a filter and tweak it down to the desired look and feel by the set of some amazing tools. The basic version of VSCO is free and comes packed with 10 filters to start with but you can purchase more filters within the app.
VSCO X the paid membership of VSCO costs less than $2 a month and includes over 100 photo filters with free monthly upgrades.
4.MIX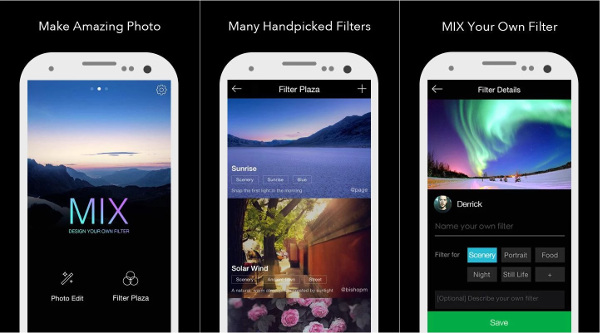 As the name suggests Mix is an app which contains the bits and pieces of all the other editing apps. MIX is coded by Pinguo.inc the company behind the much popular Camera360 app. It lets you edit, retouch, apply artistic filters, search through the community for users curated images and filter settings. It also lets you access academy resources and a personal profile to publish your photos and filters. Oh, and it's free! 🙂
5. POLARR
With the neat, customizable UI and the wide range of features, Polarr is a kind of app that all photographers wish to keep a secret. The UI is so user-friendly that it took me just 10 minutes to understand all the tools and master the workflow. Anyone who is familiar with basic post-processing can use this app without any issues. For the beginners, there are inbuilt tutorials which let you learn everything. If you can not keep 10 different apps on your phone or you don't like shuffling between apps then Polarr is what you need. You can even upgrade to premium to get more features.
I know many of you must be wondering why I have not mentioned other popular apps. Actually, I have deliberately kept the list short so that you don't get confused. Moreover, these apps have everything you need for editing your photos. Just try all of them and settle for the one which works best for you.
If you think that your favorite app is better than the apps mentioned in the list then please mention it in comments. I would love to know about it and give it a try! 🙂