Located in Parvati valley of Kullu district Kheerganga trek is probably one of the most famous treks in India. The place holds religious importance for Hindus but it is often visited by foreigners. It witnesses Rainbow gathering every year which is attended by people coming from worldwide.  Let's check out the top reasons why Kheerganga Trek attracts so much attention from all over the world.
1. Natural Hot Water Spring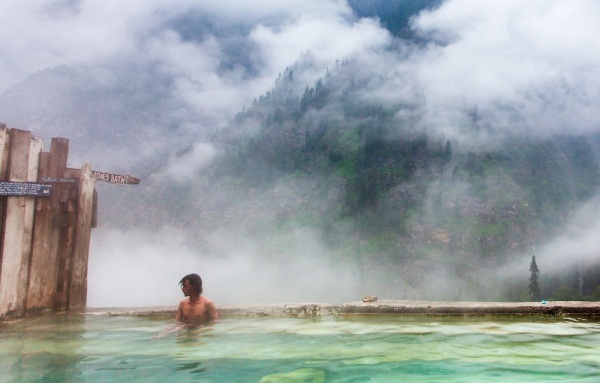 Hot water spring is one of the main attractions for the people trekking the route. Perfectly settled on the altitude of 9700ft between the towering peaks and a green meadow this pool looks straight out of heaven. The Sulphur spring holds medicinal properties and is an absolute stress buster.
Adding to this the spring holds a special significance in Hindu mythology. It is believed that Kartikeya the elder son of Lord Shiva meditated here for a thousand year. Shiva struck the ground with his trident to calm down the noise of wildlife and rustling forest so Kartikeya can meditate and the spring emerged from the ground due to the impact.
Holy or not, Nothing can beat a hot water bath after a hike, Right?
2. Most Scenic Trekking Route
The Kheerganga trek starts from Barsheni bus stand and takes you on a mystical adventure through the Pine forests of Parvati. There are two routes which merge into one and both of them are equally beautiful. The first one which goes through the Nakthan village continues through the Furious waterfall Rudranaag and it is mostly used by the trekkers.
The another one is on the opposite side and goes through Kalga village which is used by porters and locals. The path is steep but the views are amazing. To get most out of your trek I would recommend you to traverse the route!
On your journey, you will witness the confluence of Tosh Nala and Parvati river. You will be greeted by numerous Waterfalls on your way up. While you hike don't forget to stop and look around for the magnificent view of the Himalayas laden with Pine trees and snow. On reaching the top you will be greeted by lush green meadow and the amazing view of mountains.
3. Kheerganga Trek is Easily Accessible
Reaching to the starting point of the trek is fairly easy. You can either fly to Kullu-Manali Airport in Bhuntar or you can take an overnight bus ride from ISBT Delhi to Bhuntar(488KM). From Bhuntar it's 45Km bus ride till Barsheni. From Barsheni it's an easy trek of 11km. You don't really need any special equipment or gears other than hiking boots.
There are many cafes along the way which will serve you hot tea and Maggi. The ones around the Waterfalls are the best as they provide best views and soothing ambiance.
4. It's In Budget
The budget sheerly depends on what kind of traveler you are. You will be spending most of your money on traveling to and fro Barsheni. The options are many and vary from a Flight, Private Taxi, Volvo to HRTC regular buses. After Barsheni you only have to pay for the food and accommodation.
A tent can cost up to $8 with a sleeping bag and a room with a bed can cost anything between $4 to $7 per day depending on the season.
You can save more by staying at the Dharamshala as they only charge $2 per day for stay and food.
Now, That's a steal!
5. It's one of the safest and easiest treks
Kheerganga is a moderately easy trek and is suitable for beginners. Follow the trail and you're good to go. There are actually fewer deaths/Casualties on the trail in comparison to the people who decided to go off trail or indulged in cannabis-related practices.
Most of the time its foreigners who go "off trail under the influence of cannabis". You will meet a lot of trekkers on your way and there are many cafes in between. Considering that you will trek responsibly there isn't any danger lying around the trail.
Blessed with serene landscapes, Surreal views, and tempting amenities Kheerganga trek is definitely something which should be on your bucket list. After you're done with the trek head over straight to Tosh, Pulga or Chalal to rest and enjoy the valley leisurely.